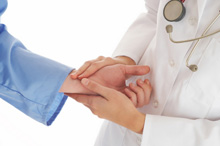 You may obtain medical treatment from a physician of your choice. However, you may be under the care of only one attending physician. Your attending physician may refer you to other specialist(s) with the approval of your employer's insurance carrier.
You may change your attending physician once, but you must notify the insurance carrier before making the change. Any other changes in attending physician require approval from the insurance carrier before the change. You should tell your physician that this is an industrial injury. Ask the physician to send the medical reports and bills to your employer's insurance carrier. You should be able to obtain the name of your employer's insurance carrier from your employer.

Within seven days after the date of first attendance or services rendered, any physician, surgeon or hospital shall make an initial report, Form WC-2, "Physician's Report" to this Division and the insurance carrier and at appropriate intervals to verify your continued treatment.

If your claim is accepted, the WC carrier should pay for all required medical care, services, and supplies, as the nature of the injury reasonably requires.

If your physician does not have Form WC-2, "Physician's Report," you may give him a copy.
DISCLAIMER: This article is intended to provide guidance on some of the legal entitlements under the WC process (by no means exhaustive) and should not be used as legal advice on the handling of a workers compensation claim. Contact the State of Hawai'i, Department of Labor and Industrial Relations, Disability Compensation Division, or the Labor and Industrial Appeals Board, or the union, or retain an attorney for legal advice, as appropriate, because each claim is different. This website is intended for educational and informational purposes only. We expressly disclaim any responsibility for actions taken or not taken based on information on this website. The information is provided "as is" without warranties of any kind, either express or implied. The content is general and may not reflect current developments and is subject to change without notice.